Photographer Highlight: Cal Butler
Posted on November 16, 2020
Enthralled by the wild and inspired by capturing it, Cal Butler is just as knowledgeable a guide as he is a talented photographer. Cal is a much beloved member of our team of Rangers at Leopard Hills. His photography embodies the wonder of a South African safari and he is an asset to any keen photographer visiting the Sabi Sand on safari.
Take a look at some of our favourite images of his, from his blog.
A love of leopards
Working in the Sabi Sand, we are fortunate enough to enjoy regular leopard sightings on safari. Cal's Instagram feed is littered with images of these elusive cats spotted on game drives.
Basile, a resident female leopard near Leopard Hills makes regular appearances on Cal's social media and blog pages. She is a clear favourite of his, as evident in the many images he has captured of her and her cubs.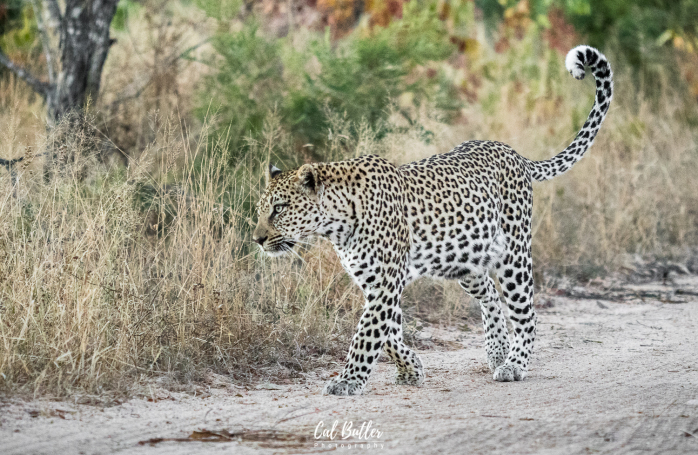 Birding buff
The Sabi Sand is birding paradise with over 450 recorded species in the region. Cal is a keen birder as seen by the myriad of species that show up on his blog and social media pages. Cal's tips for attracting birdlife in your own garden:
"Some birds are seed eaters, fruit eaters, nectar feeders or insect eaters to name a few. Having a variety of trees and plants in the garden will likely attract different birds to your spot.
The sunbirds go crazy when they realise there are flowering aloes around. They can be quite vocal so it is unlikely that you will miss their arrival to your plants.
Adding a bird bath or a little water feature is a sure fire way to attract some birds into the garden. Whether they come for a drink or simply just to splash around, most birds cannot resist a visit to the water feature."
A unique perspective on hyenas
Describing them as "cute and cuddly, fascinating" and "curious", Cal certainly has a unique view of hyenas – a creature often viewed less favourably thanks to movies like 'The Lion King'.
Cal wrote on his blog, "If there is one call that is synonymous with the sound of Africa, a sound that quickly shatters the silence of the bush, it has to be the infamous call of a spotted hyena.
"Female hyenas make magnificent mothers. They are highly protective and caring. Besides keeping a constant eye out for lions and watching over the base, they will make time to play with the youngsters which often results in great entertainment. "
Lions of the Sabi Sand
The infamous lions of Sabi Sand represent some of the greatest coalitions to ever roam Africa. Near Leopard Hills, we are lucky enough to encounter the Mhangene, Styx and Othawa prides among others. Take a look at some recent sightings as captured by Cal below.